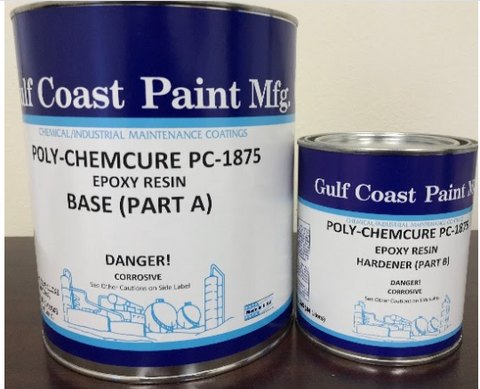 Gulf Coast Paint PC-1875 Chemical Resistant Epoxy
A 100% solids, two component Cycloaliphatic Epoxy Resin designed for concrete restoration and protection in extremely chemical corrosive environments.  PC-1875 has excellent chemical resistance to acids, caustics, salts, aromatic and aliphatic solvents.  Ideal for corrosive environments such as chemical plants, mining, pulp and paper mills, etc. Color: Medium Gray
PRODUCT USES
Recommended as a resin for restoration of concrete floors, sumps, drainage ditches, loading docks, tanks, ramps, storage silos, pump pads, and other concrete structures subjected to extreme chemical attack.  PC-1875 is used frequently in secondary containment areas as a coating as well as a trowel down system.  PC-1875 is also used as a resin with fiber glass reinforced systems.  PC-1875 is used as a coating in "seed-in" systems.  PC-1875 is also used as a "neat" coating.
Ideal for most type services in chemical processing plants, mining operations, pulp and paper mills, sewage and waste water treatment facilities, fertilizer plants, petroleum refineries, electric generating stations, coal handling operations, food processing, etc.
*PRICE INCLUDES MANUFACTURER IMPOSED SURCHARGE
For purchasing using a GSA Contract, please visit our GSA Advantage catalogue.