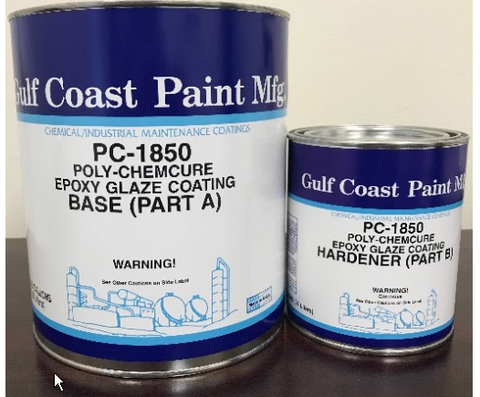 Gulf Coast Paint PC-1850 Solvent Free Epoxy Coating
Poly-Chemcure PC-1850 Glaze Coat is a specially formulated two component, 100% Solids Epoxy Coating designed for use where a hard, durable, tile-like high gloss floor finish is desired.  Based on a unique blend of "resin rich" polymers, PC-1850 provides an extremely wear resistant surface, which also is cosmetically attractive in appearance.  PC-1850 is a low viscosity, self-leveling resin that can be applied at a dry film thickness of 10-60 mils in one (1) coat.  Most applications are 10-20 mils DFT. The PC-1850, being a 100% solids epoxy, is ideal for use in confined areas where solvent odor is objectionable.  PC-1850 meets all EPA and other air pollution regulations, and is USDA approved.
PRODUCT USES                              
Poly-Chem PC-1850 is designed for use as a finish coat in Food Processing Plants, Breweries, Dairies, Bottling Plants, Pulp and Paper Mills, Chemical Processing Plants, Refineries, Electric Generating Plants, Warehouses, Hallways, Shop Floors, Waste Water Treatment Plants, and many other industries.
*PRICE INCLUDES MANUFACTURER IMPOSED SURCHARGE
For purchasing using a GSA Contract, please visit our GSA Advantage catalogue.