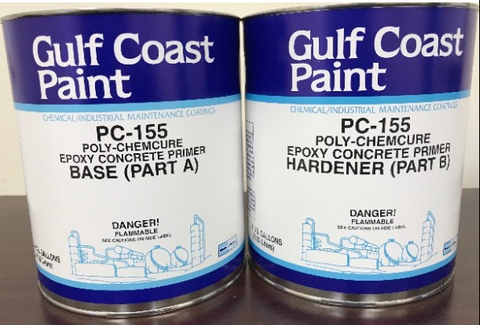 Gulf Coast Paint PC-155 Damp Concrete Primer
PC-155 is a moisture tolerant two component modified Polyamine Cured Clear Epoxy designed as a concrete primer to be used under our epoxy grouts, mortars, toppings, high performance coatings and lining systems. The low viscosity provides deep penetration into the concrete for excellent surface adhesion primer with quick tack time. 2 Gallon Unit
PRODUCT FEATURES
Excellent adhesion to concrete surfaces.     
May be applied to damp or moist surfaces.
For use under all our epoxy flooring systems.
Develops early tack, yet has a long "open time" for 100% Solids Epoxy systems.
The special tack helps prevent delamination of toppings and mortars at "bond line".
Excellent as a clear concrete sealer.
V.O.C. Compliant.
PRODUCT USES
For priming concrete surfaces, for bonding monolithic epoxy grouts, mortars and toppings such as PC-1000, PC-1175, PC-1405, PC-1500, PC-1803, PC-1850, CF-615, etc.
As primer on concrete under high performance coatings and linings, such as CM-15, PC-517, PC-555, PC-650, etc.
As a sealer coat for new or old concrete surfaces to prevent penetration of water and chemicals.
To help eliminate "Dusting" of the concrete, spalling and deterioration.
As an interface adhesive bonding agent to insure adhesion of new concrete to old concrete.
Ideal for warehouse floors, loading docks, shop floors, garages, aircraft hangars, exterior walkways, sumps, tank pads, pump supports, silos, and other concrete surfaces.  Can be made into a non-skid finish.
*PRICE INCLUDES MANUFACTURER IMPOSED SURCHARGE
For purchasing using a GSA Contract, please visit our GSA Advantage catalogue.