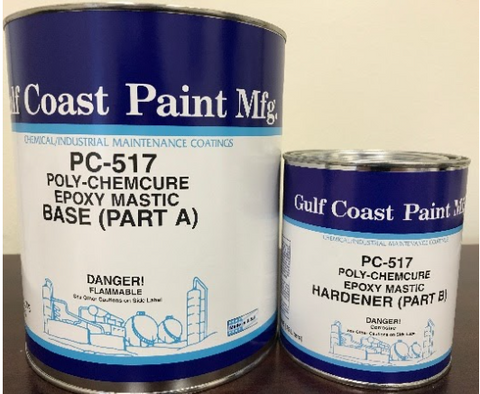 Gulf Coast Paint PC-517 Flake Filled Phenolic Epoxy Mastic
A two component, high solids, high build, flake filled, Phenolic Epoxy Mastic.  PC-517 is based on a cycloaliphatic polyamine cured Epoxy.  PC-517 Epoxy can be used as a one coat, 20 mil dry film Epoxy on horizontal surfaces.  This unique coating has excellent chemical, abrasion, impact, and weather resistance with outstanding adhesion to marginally prepared surfaces as well as clean blasted surfaces.
PRODUCT USES
Recommended for structural steel, tank linings, vessels, equipment, pipe racks, storage tanks, towers, in chemical processing plants, pulp and paper mills, sewage and waste water treatment facilities, fertilizer plants, refineries, electric generating stations, coal handling sites, mines and marine installations.
*PRICE INCLUDES MANUFACTURER IMPOSED SURCHARGE
For purchasing using a GSA Contract, please visit our GSA Advantage catalogue.