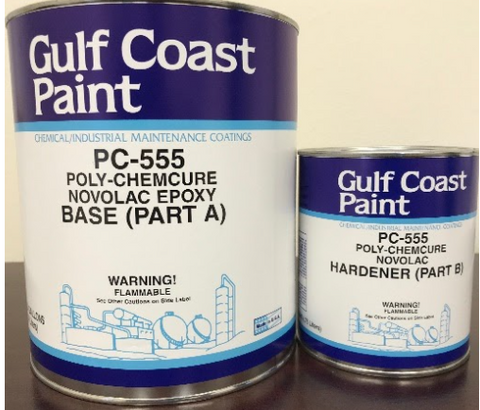 Gulf Coast Paint PC-555 Chemliner Novolac Coating
A high solids modified cycloaliphatic cured multifunctional epoxy Novolac coating.  The filler is ceramic which  maximizes chemical, abrasion and thermal shock resistance.  Has exceptional chemical and solvent resistance for an air cured system.  Designed for use in splash and spillage of 98% Sulfuric Acid and 37% HCL.  This product is used as a Finish Coat on steel, concrete and polymer materials.
PRODUCT USES
Recommended for structural steel, tank linings, vessels, equipment, pipe racks, storage tanks, towers, truck unloading pads, bleach plants, dye rooms, battery storage areas, in chemical processing plants, pulp and paper mills, sewage and waste water treatment facilities, fertilizer plants, refineries, electric generating stations, coal handling sites, mines and marine installations.  Used extensively in secondary containment areas, concrete floors, walls and other structures.
*PRICE INCLUDES MANUFACTURER IMPOSED SURCHARGE
For purchasing using a GSA Contract, please visit our GSA Advantage catalogue.